We believe in the convergence of five elements for successful businesses solutions:
(1) Technology; (2) Data; (3) People; (4) Process; (5) Global-mindset. By integrating these elements into comprehensive solutions, our businesses eliminate existing marketplace friction and create opportunities for impact, growth, and market leadership.

Our Venture Studio Flywheel
We partner with enterprise clients and bring together talent and expertise across industries, professions, and technologies to develop ideas and build businesses that strive for excellence to make the world a better place and enhance people's lives.
Our model of Innovation Advisory, Software Development, and Venture Studio creates a "flywheel" effect that constantly drives greater value to our clients. Our Innovation Advisory often inspires clients to envisage bespoke software solutions that we co-develop. A highly select segment of those solutions make it into our Venture Studio where teams of industry experts and recruited entrepreneurs collaborate to build spin-off technology businesses.
Those businesses grow Maker5's Innovation Advisory arsenal elevating our ability to add value to our client's innovation efforts. With each cycle, the flywheel grows bigger, spins faster, and delivers greater value.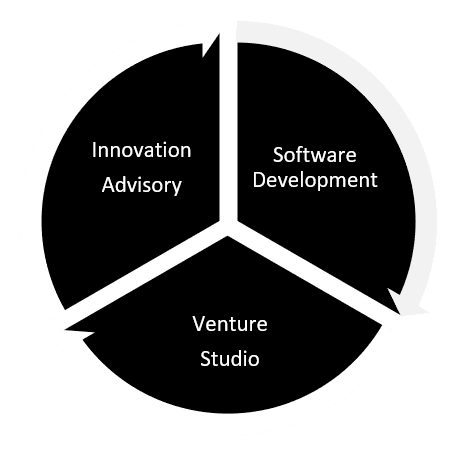 0
Software Development
Hours
0
Software Products
Delivered
0
Software & Advisory
Clients Served
0
Venture Studio
Businesses Launched
0
Cities Touched
(Live, Work, Play & Deliver)
A Message from our Founder
On behalf of our Team, thank you for visiting Maker5. We are a 21st century "future of work" team consisting of collaborators, advisors, gig workers, partners, and full-time employees dedicated to building a technology forward enterprise that prides itself on creating impact while delighting all of its constituents—our clients, our team members, and our investors.
With extensive backgrounds from globally situated AmLaw 100 law firms, professional services firms, legal technology businesses, and alternative legal service providers (ALSP and LPO), we believe we are the right team to advise any law firm or professional services firm with its innovation strategy, to build customized software solutions for those firms, and to create new and impactful businesses that result in meaningful change.